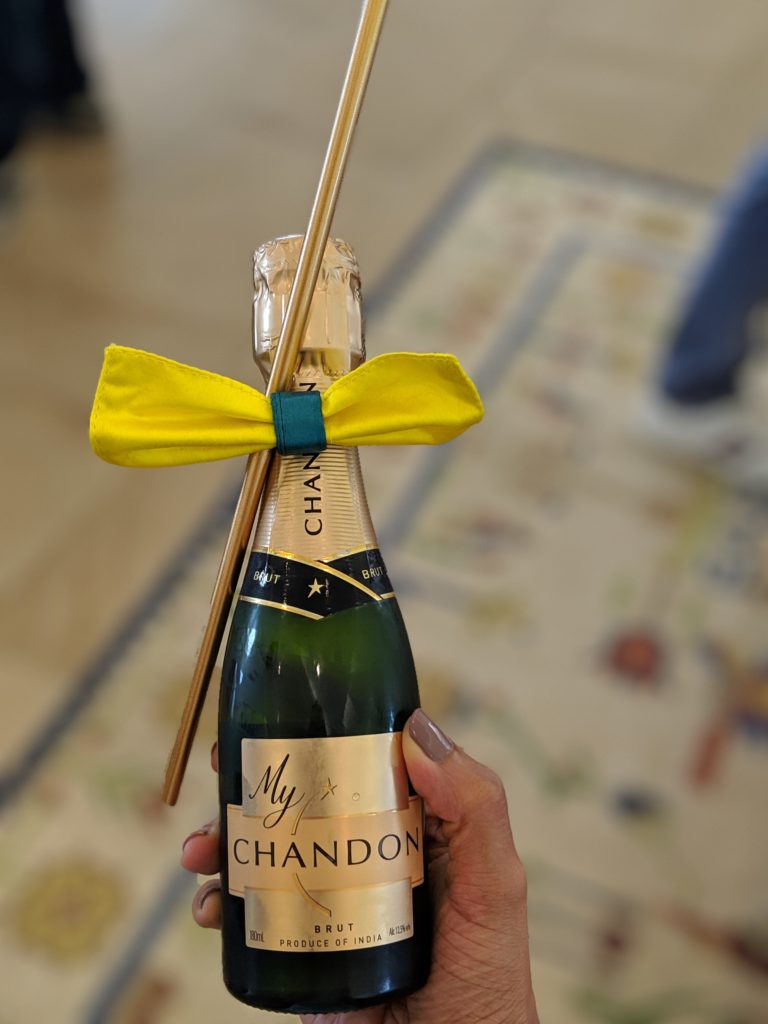 On Friday 10th of May 2019, we had the exclusive opportunity to visit Chandon India Winery. Located in Dindori, Nashik, Chandon India is the first offering from Moët Hennessy to be made in India, combining the centuries-old sparkling winemaking practice with the finest local grapes.
Part I – Journey to the Winery
We arrived in Mumbai the day before so that we could grasp a bit of the furious energy of the vibrant city. On Friday morning, we took a frugal breakfast at our hotel near by the airport. By 8.30am, we were ready to take the 3.5-hour long journey to Nashik, an ancient holy city in the northern region of the Indian state of Maharashtra.
We hired a cab and ventured deep into the loud and crowded Mumbai metropolis. We needed almost an hour to exit the city. Then, the road became monotonous, the desert-like landscape looked similar for the rest of the drive.
We arrived at our hotel in Nashik by exactly 12pm. After unpacking and freshening up, we explored the hotel. We could feel immediately that we reached a new world, compelety different from the one we left behind: it was indeed calm, quiet and slow. And we quickly realized we landed in the wine region of India. Colorful paintings explaining wine making processes, a beauteous wine bar and a luxury wine shop showcasing the two wine giants of the region (Sula Vineyards and Chandon India). Indeed, Nashik has been recognized as the Wine Capital of India as half of India's vineyards and wineries are located in Nashik.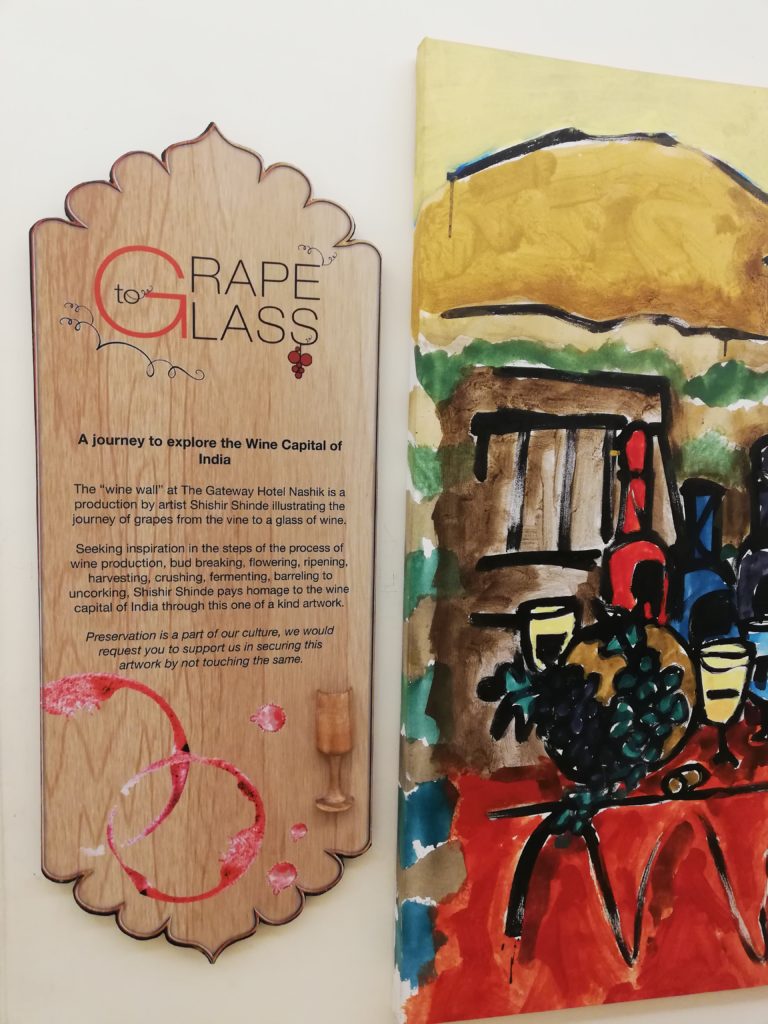 Part II – Arrival at Chandon India Winery
After an epic 45min-drive in the bush, taking narrow dirt roads, we were finally able to sight the gate of the vineyard. The blossoming and lush garden was a breathtaking scenery. A quick glance at the surroundings and one understands that the winery has been built at the foot of the hills.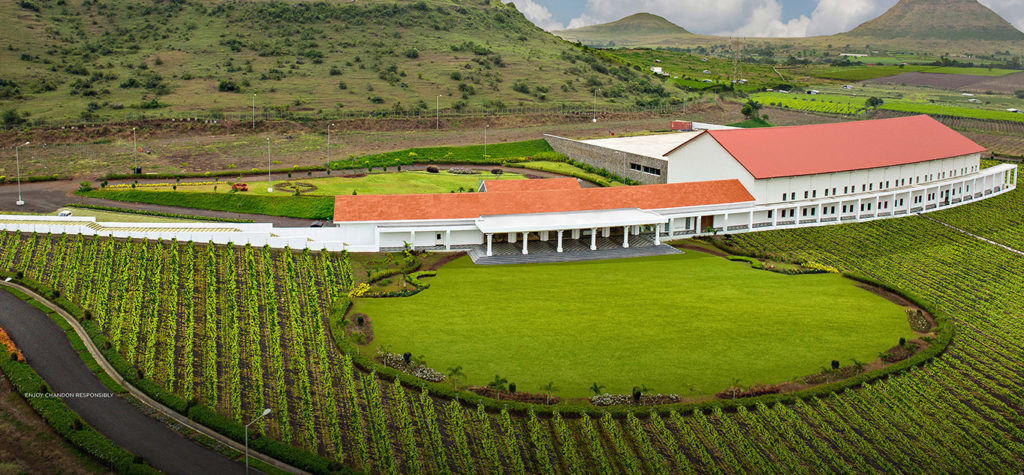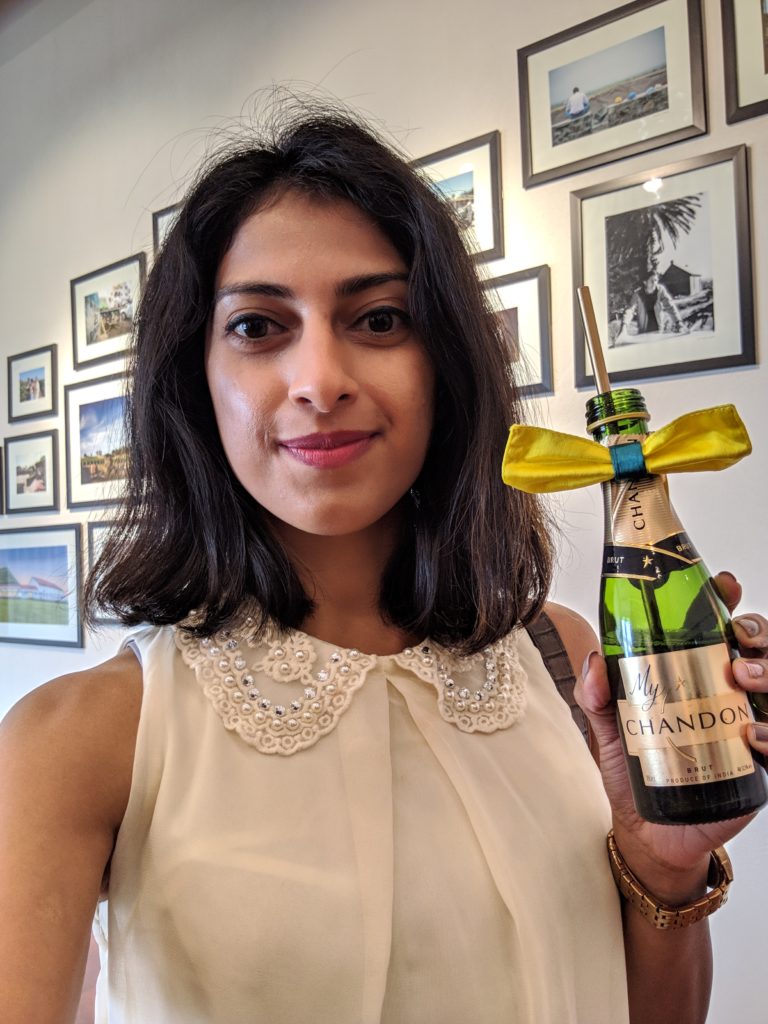 We came in the hall and Chandon India team welcomed us warmly. We were offered the special MyChandon welcome drink. This drink aims first to refresh yourself after a long journey. It also aims to break with the traditional codes. Indeed, you drink sparkling wine using a straw! The experience was surprising, though fun and tasty. It is worth mentioning that the refined interior decoration as well as the sublime exterior view to the valley were mind blowing.
Then, Mr. Amrut Vare, experienced winemaker at Chandon India, took us to another room to discover the history of Chandon. He explained that everything started in 1957 with a man, Count Robert Jean de Vogüé, and a vision, "We must export know-how, not bottles".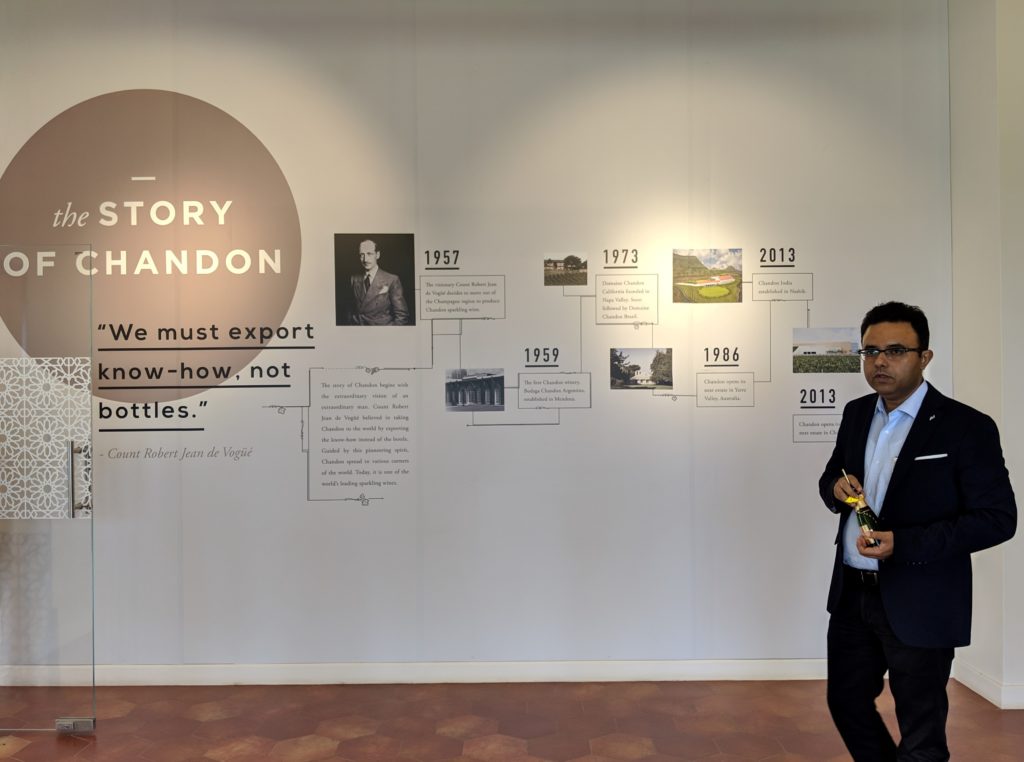 Amrut reminded us key dates such as:
1959: Bodega Chandon Argentina is established in Valle de Uco
1973: Domaine Chandon California is founded in the heart of Napa Valley and Domaine Chandon Brazil is set up at Rio Grande do Sul
1986: Domaine Chandon Australia is created in the heart of the Yarra Valley
2013: Chandon India is created in Nashik, available in two variants Chandon Brut & Chandon Brut Rosé
2014: Chandon China is founded at the heart of the Ningxia Hui Autonomous Region
2017: Chandon India launches its newest variant Chandon Délice
Subsequently, he outlined the reasons why Chandon has chosen India to build the fifth Chandon winery. Among them, he mentioned the following motivations:
With a population of over 1.3 billion inhabitants, 67% of whom are under the age of 35, India is not only the largest but the youngest democracy with an ever increasing discretionary spend
India is also currently the 5th largest economy in the world and estimated to be the world's second largest economy by 2025
India is predominantly a brown spirits market but the highest growth is coming from the super premium segment which comprises of all different spirits
The current young consumer who is also part of the Chandon target consumer compresses of a generation who is looking for the best experiences and best brands
Going out and eating out is becoming very popular: new outlets (including wine outlets) opening up with experiential cuisines and decors and pre-gaming is still big amongst the younger Xennials and Millennials
India is definitely a potential untapped consumer market for luxury brands such as Chandon. However, is it wine friendly?
India has been known for its significant consumption of spirits. The IWSR 2018 report showed about 314Mn cases of alcohol excluding beer (27Mn hectoliters) was sold the prior year with majority being brown spirits. Wine, though very small 1% at 3Mn cases, has tremendous potential, especially sparkling wine which is growing in double digits.
Wines in India have seen a sudden upswing with more players entering the market.
This can all be attributed toward a more engaged and educated consumer who is extremely socially connected.
Finally, Amrut stressed two of the main wine production regions in India:
The Nashik & Sangli Valleys in Maharashtra are good terroirs for grape varieties such as Chenin Blanc and Shiraz
The Bangalore Valley in Karnataka is a good terroir for grape varieties such as Cabernet Sauvignon and Merlot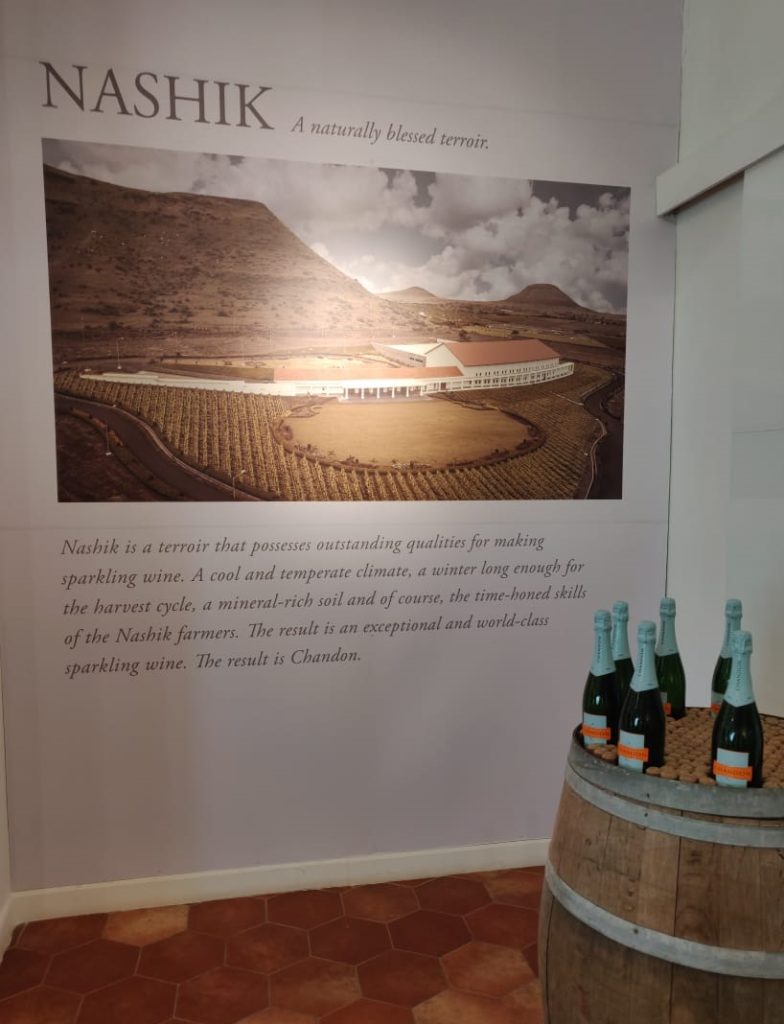 Part III – Wine Tasting
Following the elaborate history session, we moved to the tasting room. The excitement was amazing. Finally, we were about to tatste the sparkling nectar of Chandon India!
The wine tasting session was moderated by Mr. Kaushal Khairnar, Winemaker at Moet Hennessy India. He acquired significant knowledge about wine in France where he graduated in 2014 from Montpellier SupAgro University in European Master of Viticulture and Enology. He learnt the wine making process in different regions of the world such as Portugal, New Zealand, the United States, Brazil and France as an assistant wine maker. He became wine maker of Chandon India Winery in April 2018.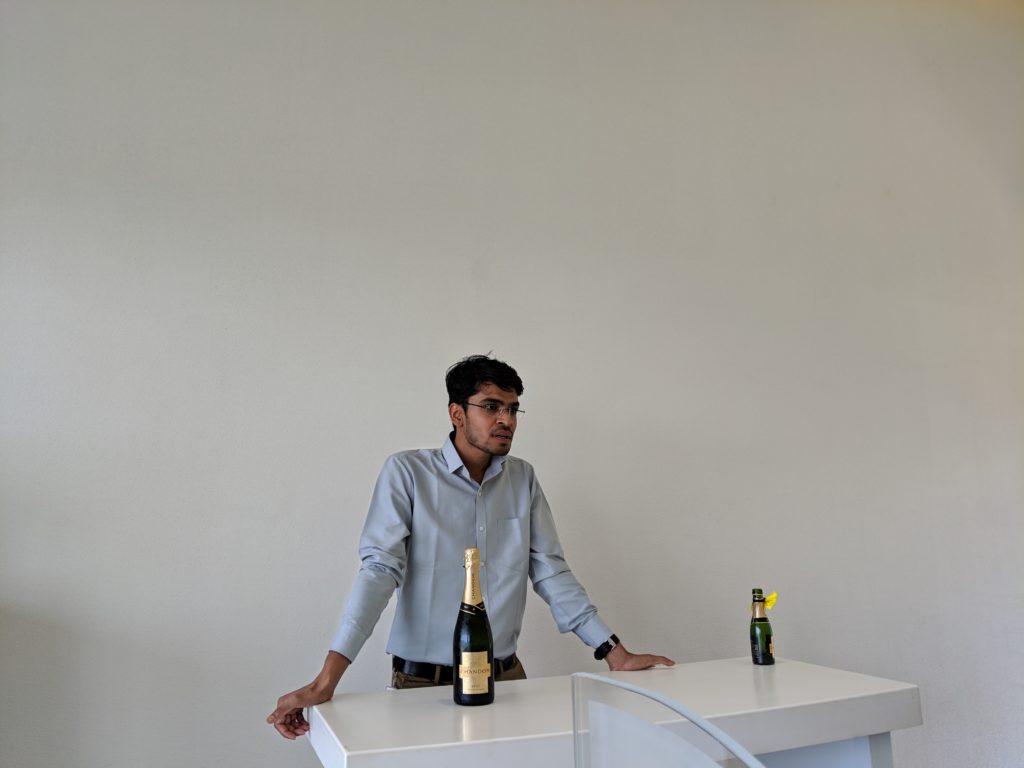 The agenda was the following:
CHANDON Brut
CHANDON Brut Rosé
CHANDON Délice
1. CHANDON Brut

Kaushal first introduced the iconic Chandon Brut sparkling wine. This 2015 vintage is a blend of Chenin Blanc (70%), Chardonnay (15%) and Pinot Noir (15%). Moving forward, he asked: "Do you know why we call this wine 'Brut'?" After unconvincing answers, Kaushal explained that it is linked to the sweetness scale. According to the quantity of residual sugar per liter in the bottle of wine, we have the following classification:
Brut Nature: 0 < x < 3 g/L
Extra Brut: 0 < x < 6 g/L
Brut: 0 < x < 12 g/L
Extra Dry: 12 g/L < x < 17 g/L
Dry: 17 g/L < x < 32 g/L
Demi Sec: 32 g/L < x < 50 g/L
Doux: x > 50 g/L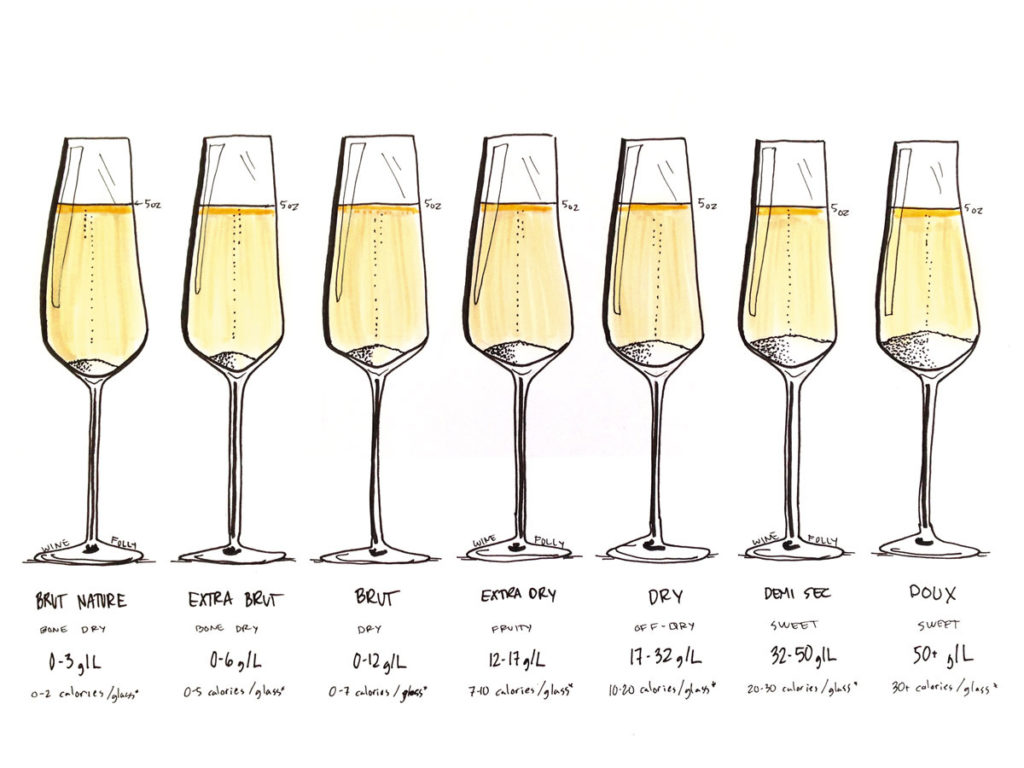 Next, Kaushal helped us to describe the wine in three consecutive steps:
Color
Aromas
Taste
At the first glance, it was easy to say that the Chandon Brut is lemon green in color. Looking more attentively at the glass, we were to able to observe the bubbles. The small-sized bubbles rised to the top with consistency. According to him, this a sign of good quality sparkling wine. In the contrary, a low quality sparkling wine is characterised by big bubbles that don't remain for long and move randomly to the top. Several reasons could explain this behavior. Kaushal touched on the storage temperature: if the temperature is too high, the CO2-bubbles burst; if the temperature is too low, the flavours disappear. He suggested that a constant storage temperature at 14°C for 36 months is the right condition to get perfect bubbles in sparkling wines. He added that some wine makers make the choice to add artificial CO2 that can lead to low quality bubbles in sparkling wines.
The aromas of the Chandon Brut could be described as follows:
Chandon Brut is straw yellow with flashes of green and a fine persistent effervescence. A bright, fresh fruit bouquet of citrus blossom with green apple and hints of tropical fruits and vanilla.
Last but not the least, we tasted the wine! Theoretically, we should have tasted the same aromas we had smelt earlier… We all tried our best to figure out the right fruits the Chandon Brut was offering us. Some succeeded, some did not. Nevertheless, we all enjoyed the first glass of Chandon!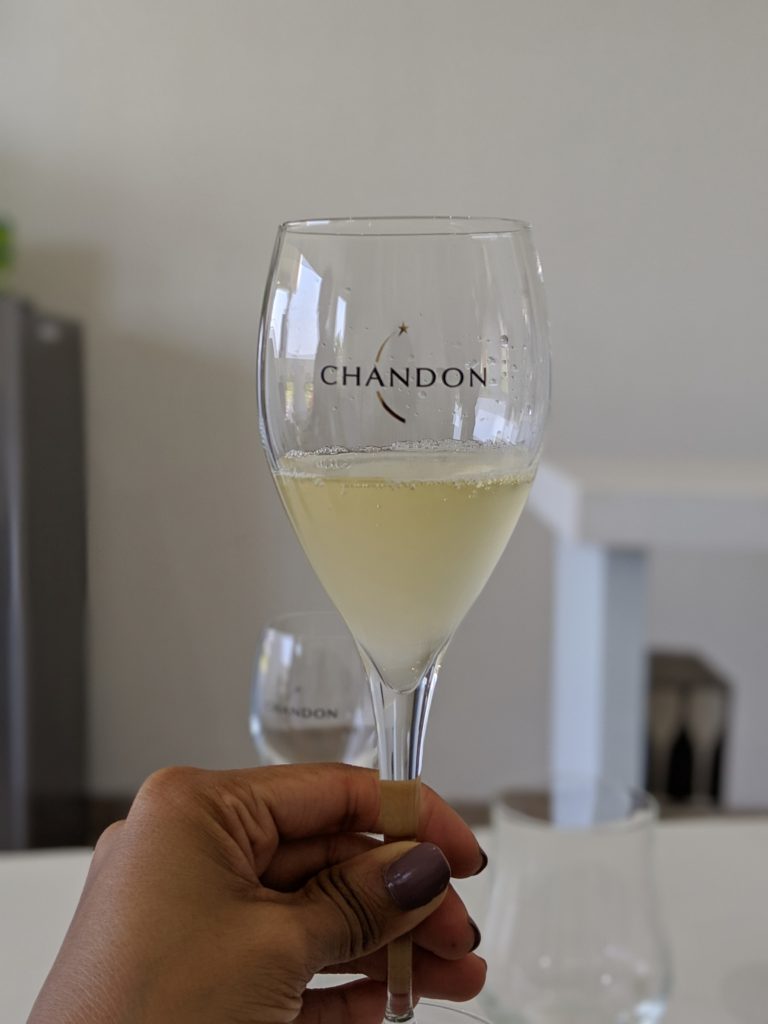 2. CHANDON Brut Rosé
Next, we moved on and Kaushal opened the Chandon Brut Rosé. "This vibrant rose gold with hints of pink peach skin and a fine persistent effervescence" is 100% made with Shiraz. Apparently, the Nashik Valley is particularly suitable for Shiraz as the nights remain cool and the fluctuations in temperature are quite low. The pink color of this wine was a good opportunity to remind us where the color in wine comes from. The common answer is that red wines are made with red grapes (Pinot Noir, Cabernet Sauvignon, etc.) and white wines are made with white grapes (Chardonnay, Pinot Grigio, etc). Thouh, surprisingly, it is possible to make white wine with red grapes! In fact, red wines get their color from the juice fermenting with the skins and seeds of red grapes (the skin of red grapes contain a pigment called anthocyanin); while white wines are pressed off of the skins and the seeds before being fermented (Source: Wine Folly). Thus, rosé wine happens when the skins of red grapes touch wine for only a few hours, whereas some red wines ferment for weeks at a time on red grape skins (Source: Wine Folly).
For this wine, Kaushal underlined "the intense aromas of ripe cherries with mouth-filling flavours of red fruits and soft grapefruit undertones lead to a rich, creamy, persistent finish". Some of us also noticed spices and dry chilli aromas.
As we were tasting the wine, we observed the Rosé was a bit sweeter than the Brut.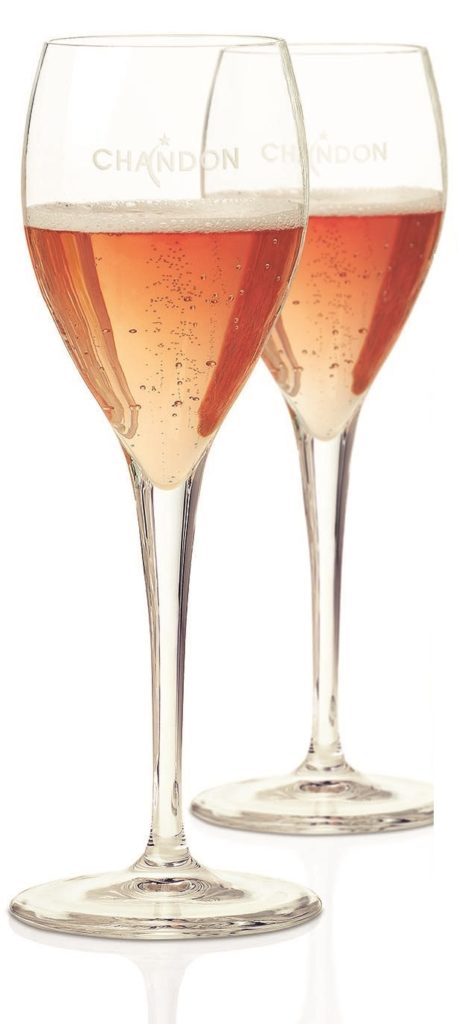 3. CHANDON Délice

Last, Kaushal opened the bottle of Chandon Délice. The blending is 60% of Chenin Blanc and 40% of Chardonnay. This sparkling wine has been launched in 2017, three years after the release of Chandon Brut and Chandon Brut Rosé. As a Demi Sec (sweetness level at 45 g/L), this wine is much sweeter than the two previous Brut wines (sweetness level below 12 g/L).
Fresh and easy to drink, Chandon Délice can be drank in three ways according to your mood:
With a flute
With 2 ice cubes on the rocks
With a slice of orange (like on the photo below)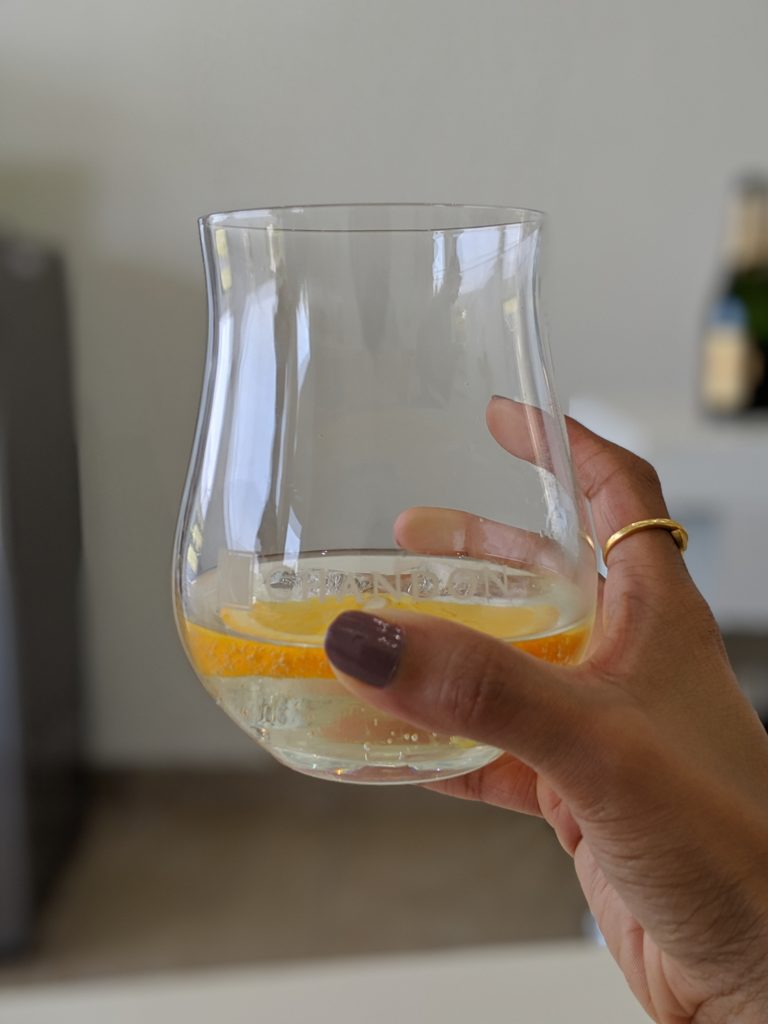 This 1-hour wine tasting was a mesmerizing experience for both connoisseurs and beginners alike. The newcomers can discover the basics of making wine and wine tasting and the amateurs can satisfy their curiosity about the New World wines from India.
We left the wine tasting room and headed to the terrace to have a tasteful Indo-French lunch buffet.
Part IV – Winery Visit
From harvest to consumption, you need at least two years of work. In Nashik region, harvest occurs once a year in the months of January and/or February.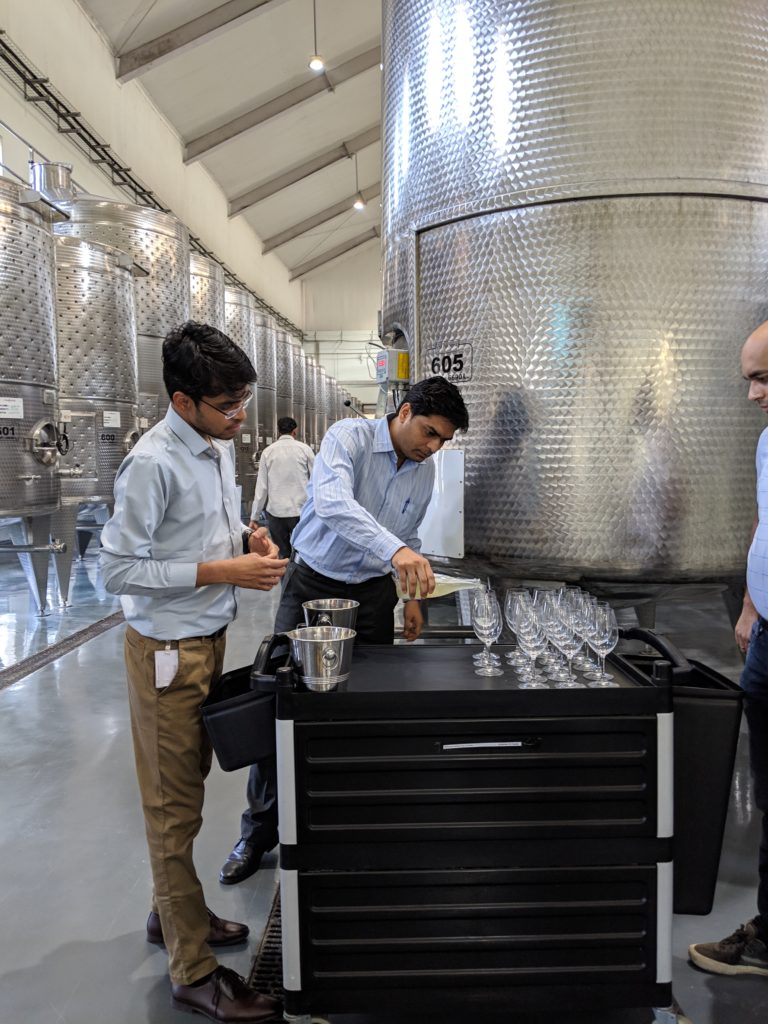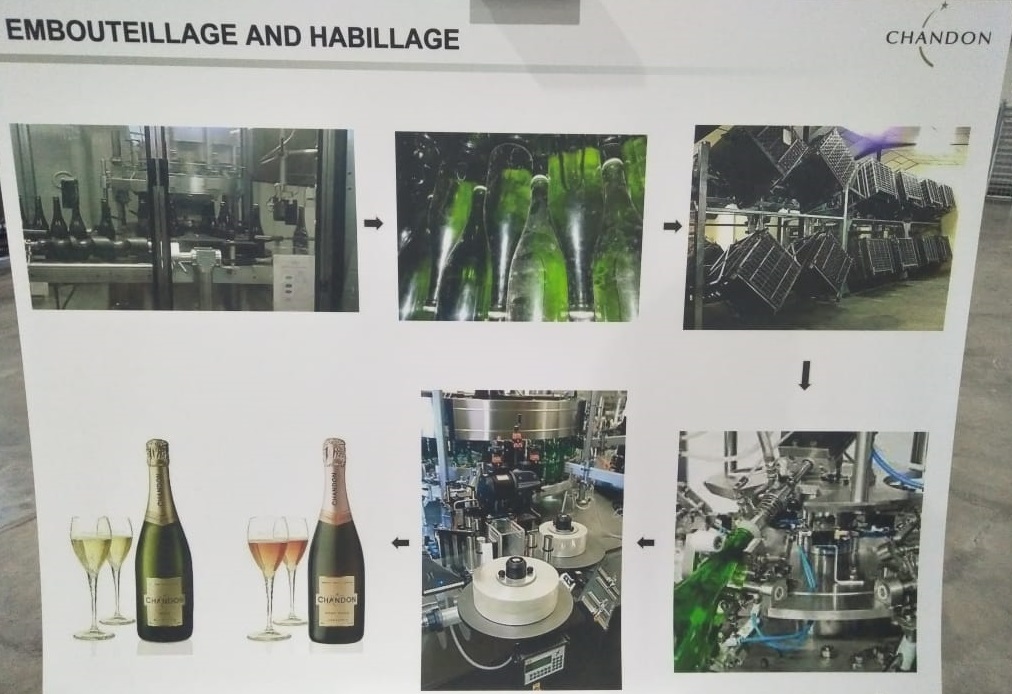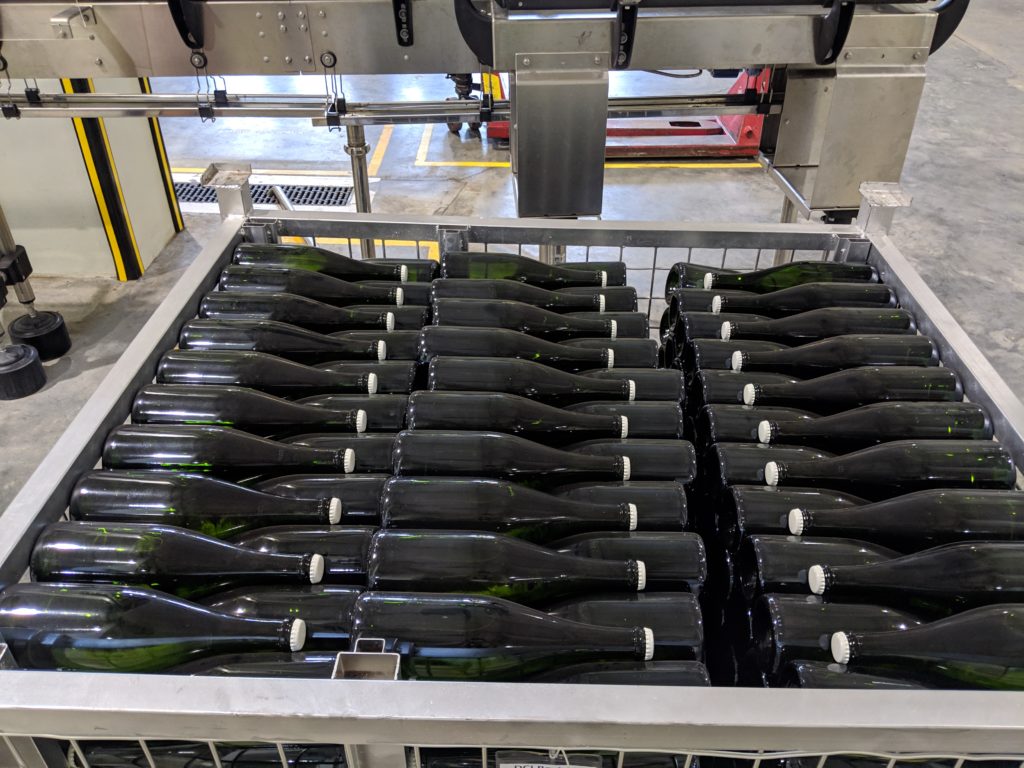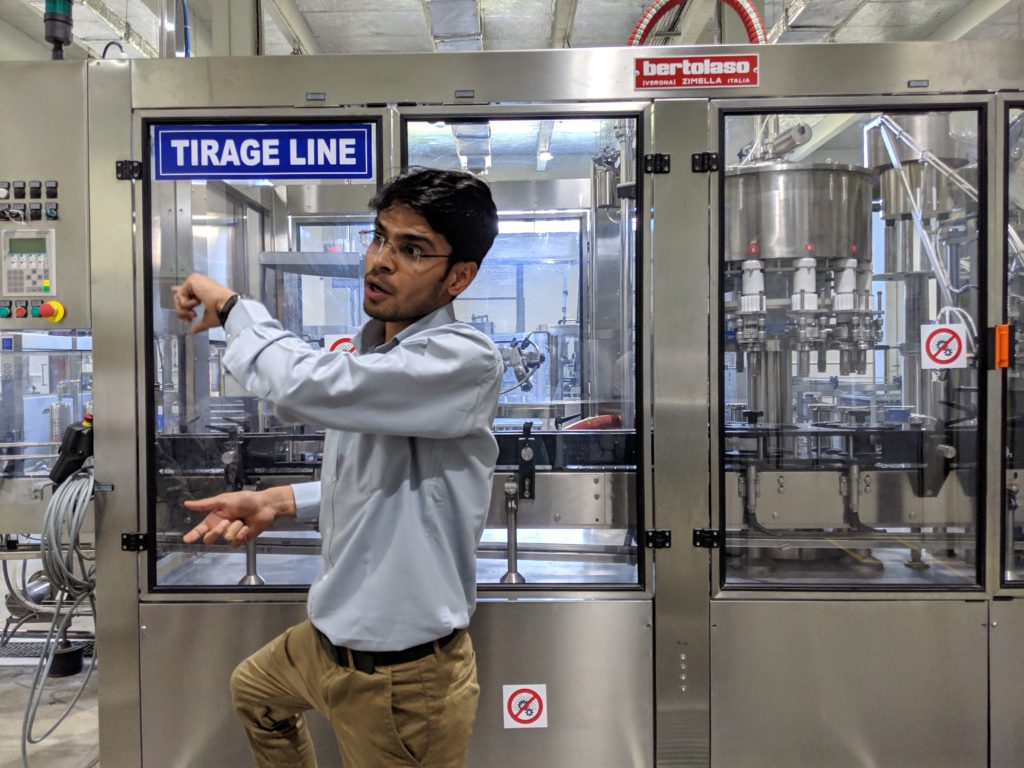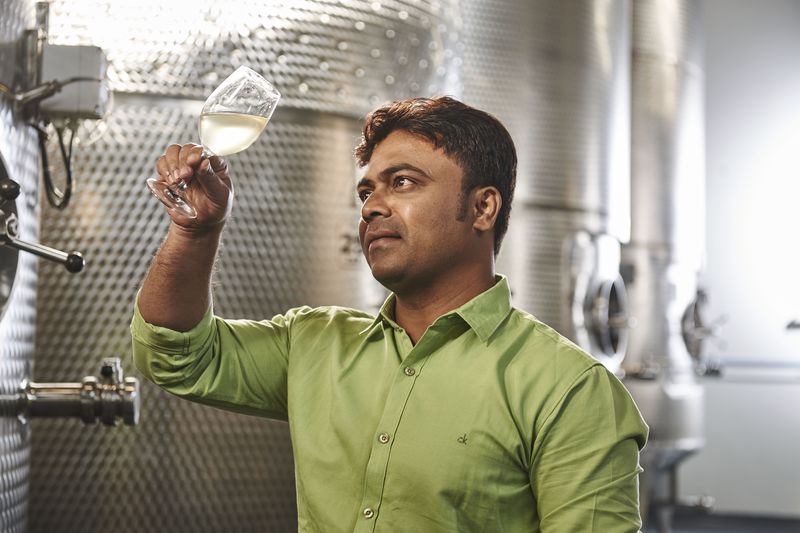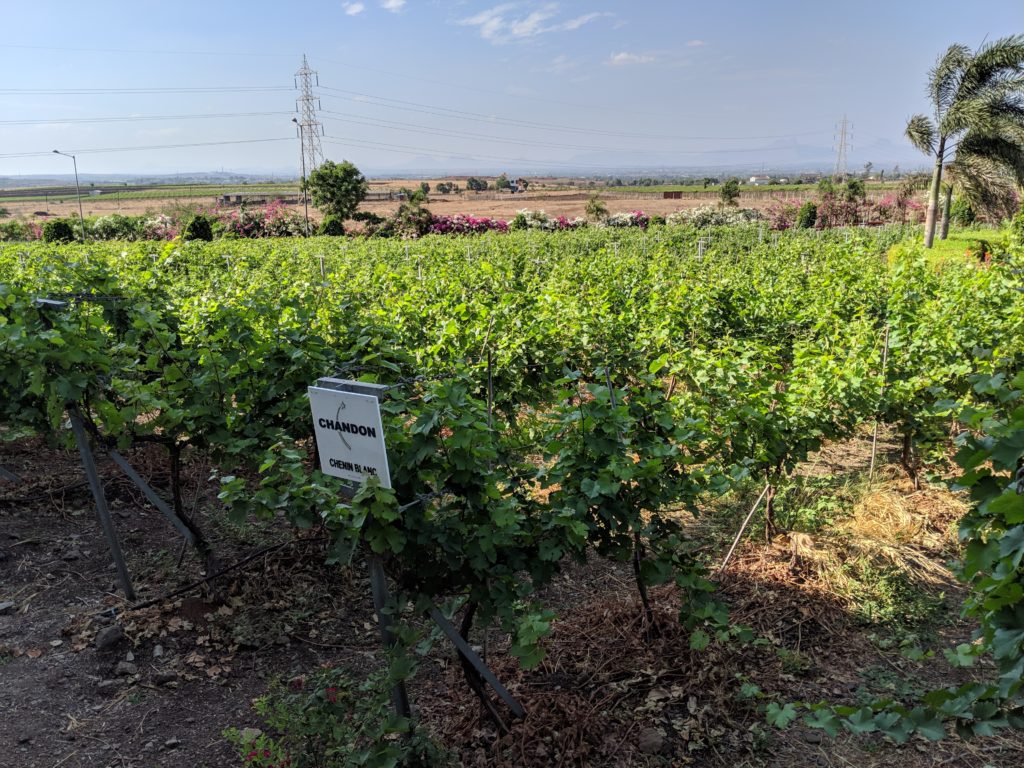 Part V – Last Moments at Chandon India Winery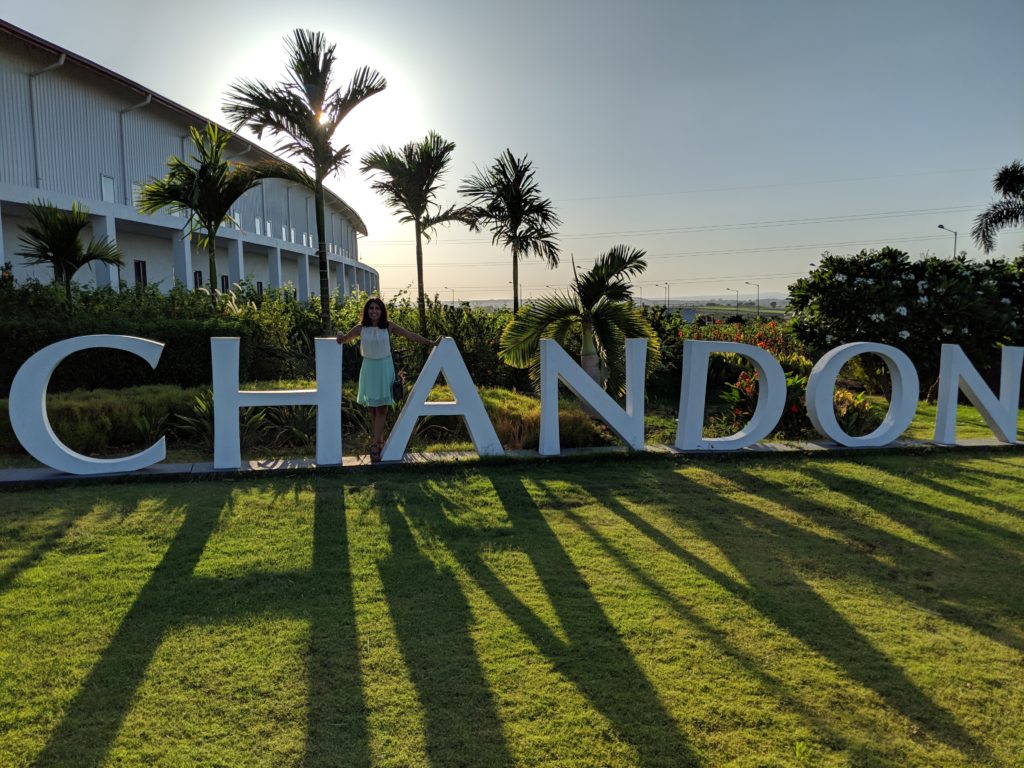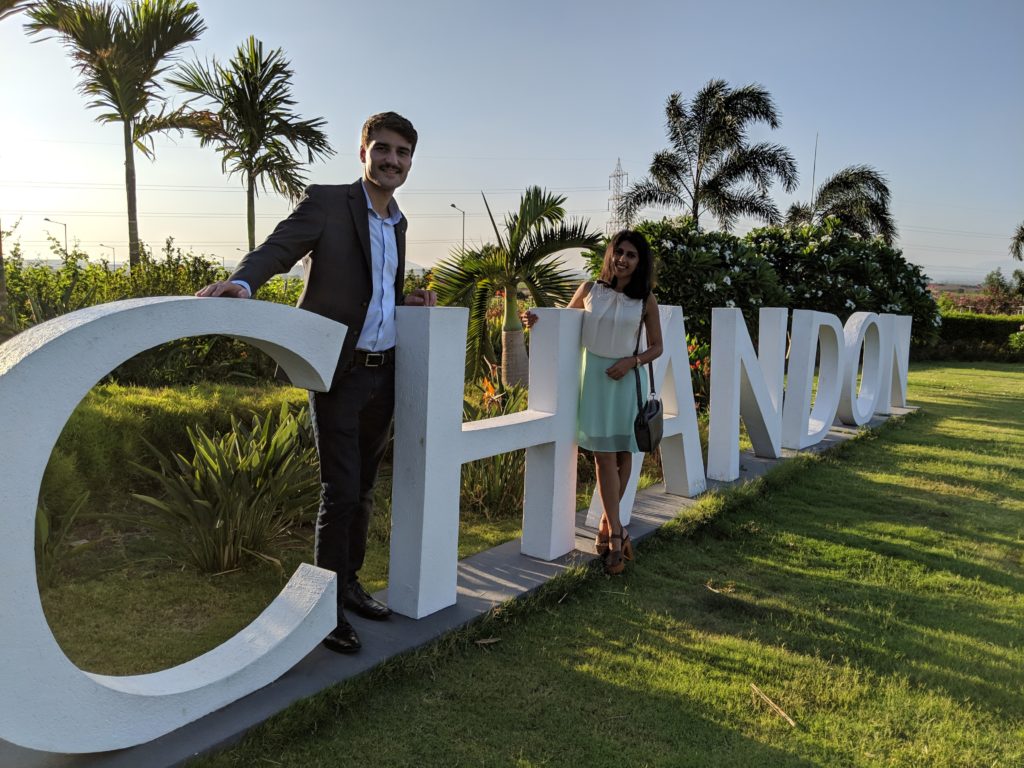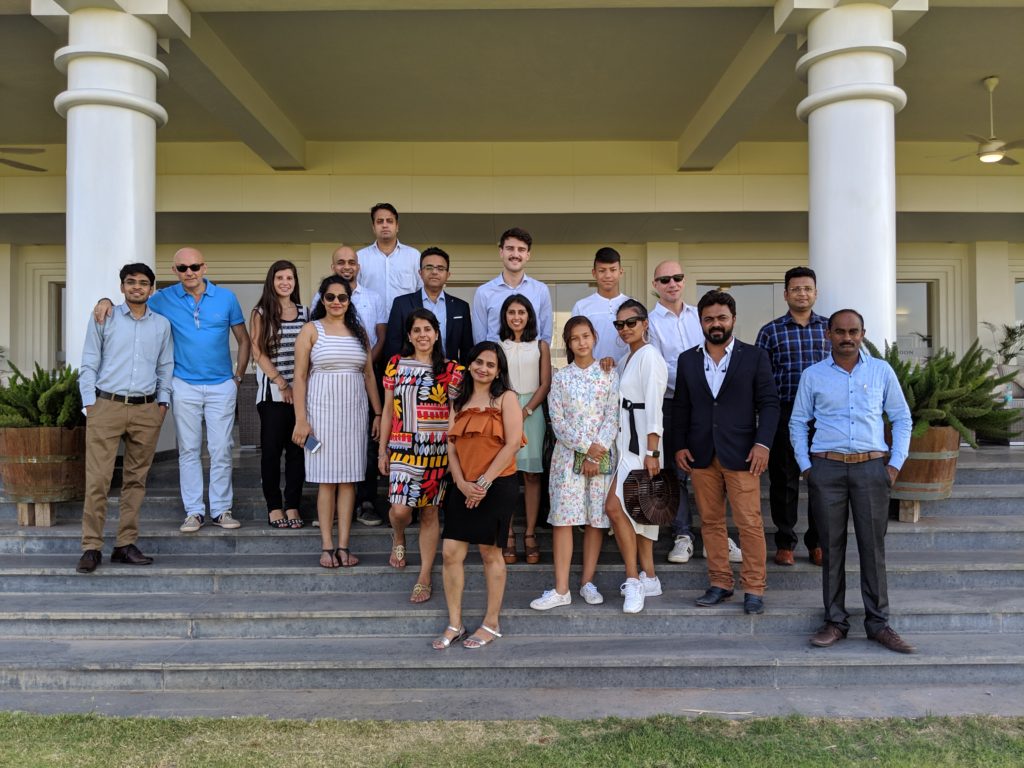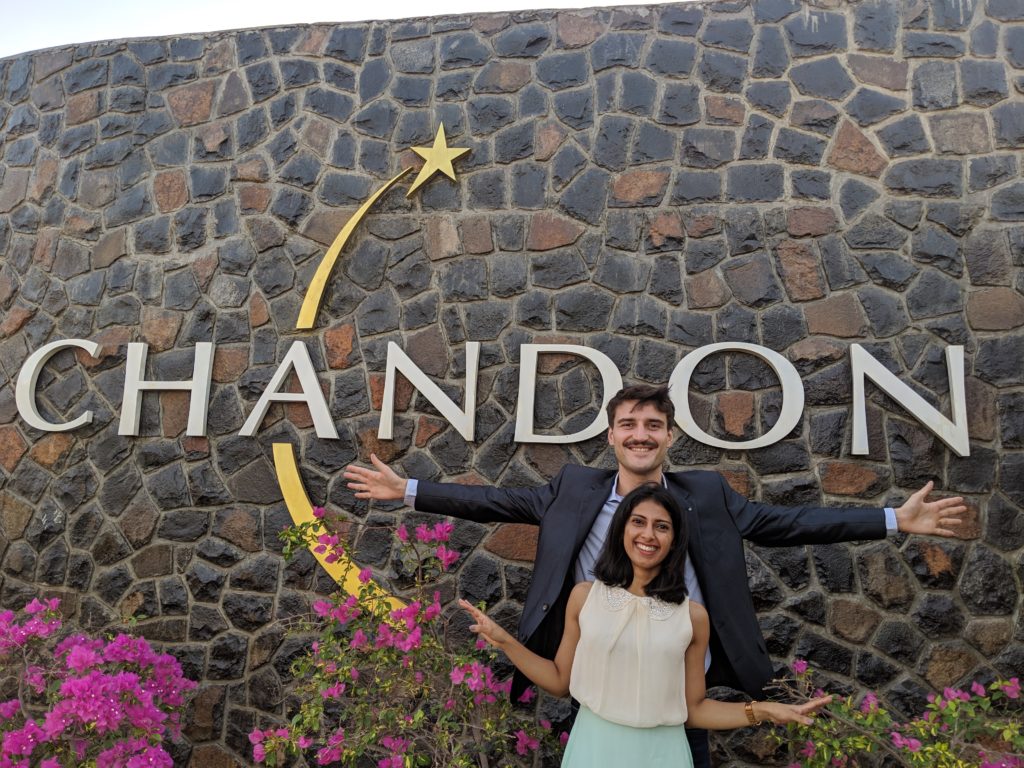 Part VI – Cheat Sheet for Wine Lovers (and Wine Snobs!)
Chandon India

2013 Chandon India was founded
1st sparkling wine produced in India according to international standards
8.5 hectares surface area of Chandon India domain

India Economics
Wine, Beers and Spirits in India

According to Statista, revenue in the spirits segment amounts to US$34,476m in 2019 in India and the market is expected to grow annually by 6.7% (CAGR 2019-2023). India stands in the top 3 behind China (with a market volume of US$134,455m in 2019) and the USA (with a market volume of US$83,949m in 2019).
Statista estimates that revenue in the beer segment amounts to US$14,188m in 2019 and the market is expected to grow annually by 7.7% (CAGR 2019-2023). In global comparison, most revenue is generated in United States (US$115,678m in 2019).
Revenue in the wine segment amounts to US$0.1m in 2019 according to Statista. The market is expected to grow annually by 21.4% (CAGR 2019-2023). In global comparison, most revenue is generated in United States (US$49,570m in 2019).
For visiting the Chandon India Winery, please get in touch with Amrut Vare
Email: amrut.vare@moethennessy.com
Phone: +91 83089 79899
Drink responsibly.
Sources:
Article published on May 27, 2019