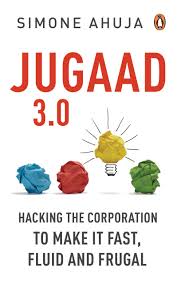 Dr. Simone Ahuja is the founder of Blood Orange, an innovation and strategy consulting group with special expertise in innovation, jugaad (or frugal) innovation, and intrapraneurship (innovation execution).
Jugaad 3.0 offers an outstanding guide for intrapreneurs to successfully drive innovation from within an established organisation. Using a fast and frugal approach common to an entrepreneurial startup, Jugaad 3.0 organisations can build their ability to innovate and create an approach for growth that harnesses the creativity and knowledge of employees at every level.
Draw inspiration from the eight J3.0 Principles!
KEEP IT FRUGAL

Remain asset-based
Keep it simple
Encourage frugal experiments
Focus on teams
Rethink incentives

MAKE IT PERMISSIONLESS

Support, don't control
Say 'yes' more often
Add light structure

LET CUSTOMERS LEAD

Create leading-edge customer focus
Hack better access to customers
Turn customers into innovation partners
Make intrapreneurship a sales priority

KEEP IT FLUID

Create a team of teams
Make management fluid
Support agility to structure

MAXIMIZE ROI

When it doubts, test it out
Make learning a priority
Measure Return of Intelligence
Make failure feasible

CREATE THE COMMONS

Plan for full inclusion
Make it safe to innovate
Use technology in appropriate measure
Train future intrapreneurs
Create porous networks

ENGAGE PASSION AND PURPOSE

Make purpose programmatic
Leverage passion that bubbles up
Push passion viral

ADD DISCIPLINE TO DISRUPTION

Develop multiple streams of innovation
Create a culture that enables hybridity
Manage disruption with discipline