Part I – Definitions & Properties
Jackfruit Tree
Jackfruit (Artocarpus heterophyllus) belongs to the family Moraceae.
The amazing tree produces the largest tree-borne fruit in the world. One jackfruit tree can produce up to 200 jackfruit a year, and each jackfruit can weigh up to 100 pounds.
The jackfruit tree is also hardy, easy-to-grow, and resistant to drought and heat, so it's well suited to adapt to our changing climate. And though they're native to southern India, jackfruit trees thrive in tropical regions around the world.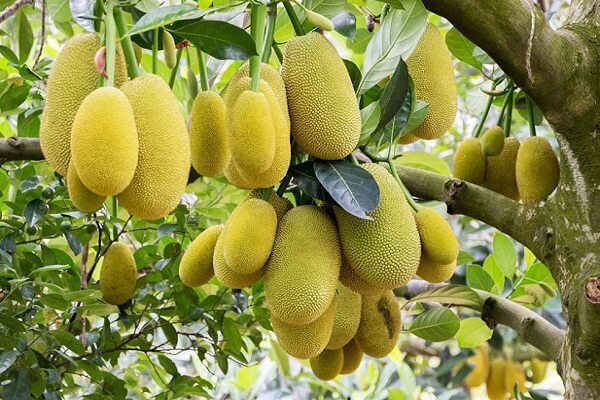 Jackfruit Fruit
Its huge trees produce massive, green, oblong fruits with a bumpy, fleshy exterior.
Jackfruit can weigh up to 45 kg and grow up to 1 meter long. It weighs 5 kg on average.
On the inside, it contains many pale-yellow, plump bulbs, which are edible and joined at the core. The seeds can also be cooked, eaten on their own, or ground into flour.
A ripe, unopened fruit has a strong, unpleasant odor. But the pulp of the opened fruit smells sweet.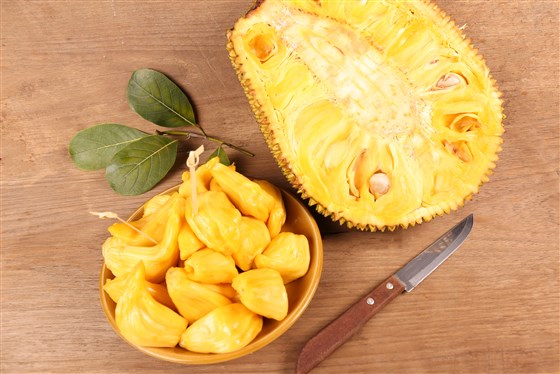 Jackfruit Varieties
Being a cross pollinated and mostly seed propagated, the existing population of jackfruit consists of innumerable trees, differing from each other in shape, size, density of tubercles, rind colour, bulb size, fibre content, fruit quality and maturity.
Gulabi (rose-scented), Champa (flavour like that of champak flower), Hazaric (bearing large number of fruits), etc. are few examples.
However, distinct varieties are not available in jackfruit. Cultivated types are broadly classed into two groups by consumers, namely, soft flesh and firm flesh.
Composition
Jackfruit is that it's nutritionally dense and unusually versatile. It has a texture and flavor that evolves during its ripening process. The seeds are especially nutritious in protein.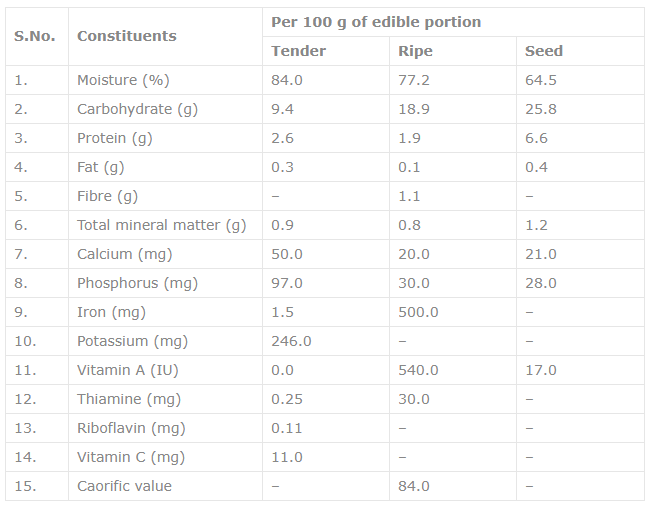 It was traditionally used as a remedy, since it provides multiple health benefits including antioxidant protection, maintaining cardiovascular health, boosting immunity, and anti-inflammatory.
Flavors
The flavor of young jackfruit is subtle, so it absorbs and complements the spices and seasonings it's cooked with. It also has a meaty, dense texture that shreds like pulled pork (the Bengali word for jackfruit means "tree mutton").
And as jackfruit becomes more mature, it softens, sweetens, and its flavor becomes more distinctly tropical–like a blend of pineapple and banana. Fully ripened jackfruit is the perfect ingredient for smoothies, fruit salads, and frozen desserts.
Part II – Today's Production & Consumption
Main Producers
Jackfruit is a tropical fruit species found in tropical, high rainfall, coastal and humid areas of the world. Jackfruit is widely cultivated in the tropical regions of India, Bangladesh, Thailand, Indonesia, Nepal, Sri Lanka, Vietnam, Malaysia and the Philippines. It is also found in Africa as well as throughout Brazil and some of the Caribbean nations, such as Jamaica. However, the Indian land and weather are most suitable for the growth of Jackfruit.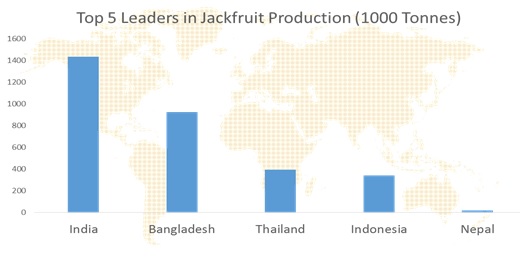 India, The Top Producer
Agriculture and Horticulture has been the main occupations of India. Jackfruit farming has also improved the country's total share through the contribution of many states:
Tripura: 292 MT (17%)
Orissa: 233 MT (13%)
Assam: 197 MT (11%)
West Bengal: 197 MT (11%)
Karnataka: 197 MT (11%)
Kerala: 190 MT (11%)
Chhattisgarh: 183 MT (11%)
Jharkhand: 117 MT (7%)
Madhya Pradesh: 53 MT (3%)
Tamil Nadu: 50 MT (3%)
Jackfruit Market
The jackfruit market is segmented based on its variety, application, distribution channel, and region.
Based on variety, it is divided into Cheena, Golden Pillow, Tabouey, Black Gold, Cochin, and others.
Based on application, it is classified into fresh consumption, beverages, confectionaries, and others.
Based on distribution channel, it is categorized into online retail, retail stores, supermarkets/hypermarkets, and food and drink specialty stores.
Based on region, it is studied across North America, Europe, Asia-Pacific, and LAMEA.
The growth of the jackfruit market is expected to increase due to the numerous applications in food dishes, such as chips, jam, soup, candy, and ice cream. Food manufacturing and processing companies are developing innovative jackfruit flavored dishes such as jams, jellies, squash, or chutney which majorly drives the growth of the jackfruit market. However, jackfruit is a perishable fruit and has a short shelf life due to its inherent compositional and textural characteristics. Hence, manufacturers may have to take extra post-harvest efforts for storing jackfruit.
Top Players
Artocarpus Foods Pvt. Ltd.
Anna Food Products
The Jackfruit Company
Island Valley Delights
Mother Dairy Fruit & Vegetable Pvt. Ltd.
Madam Sun
Frubites
NatureLoC
Jackfruit365
Nutty Yogi
Traditional Cooking
The most commonly consumed part of jackfruit is the flesh, or fruit pods, which are edible both when ripe and unripe. It can be used in sweet and savory dishes, including desserts and curries. The seeds are also safe to eat.
Jackfruit is also the favored fruit for making sweets. It is also processed into noodles, flour, papad, ice-cream..
The fruits are also used for preparation of pickles, dehydrated leather, thin papad, soft drinks like nectar, squash and to some extent for canning purposes.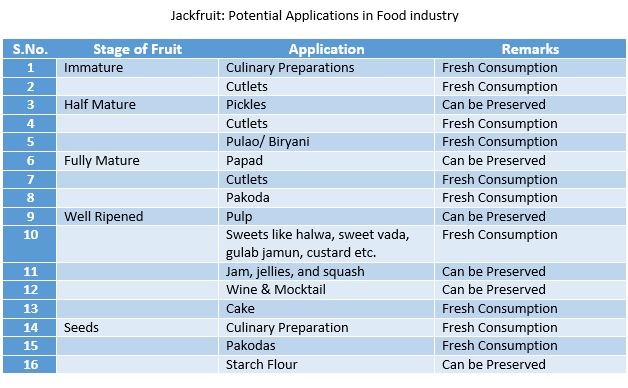 Part III – Trends & Potential
India, the world's biggest producer of jackfruit, is capitalising on its growing popularity as a "superfood" meat alternative – touted by chefs from San Francisco to London and Delhi for its pork-like texture when unripe.
A Vegan Meat Replacement
It's a healthy vegan meat replacement and it's one of the biggest food trends among vegetarians, vegans and even meat lovers. Best of all, it's the key to making an insanely delicious barbecue pulled "pork" sandwich that you won't believe is vegan.
Discover below awesome recipes!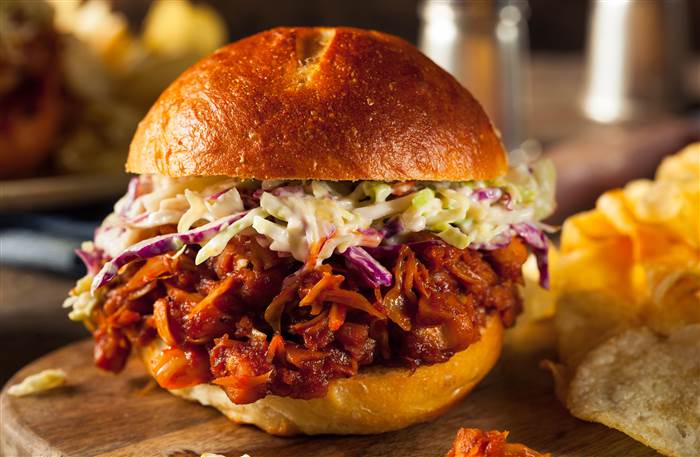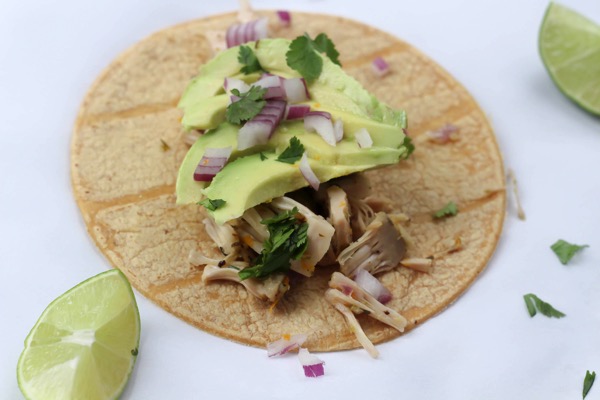 A Sustainable Choice for a Growing World
Amazingly, one jackfruit tree can grow about 100 to 200 fruits in a year.
With its huge size, nutrient density, and crowd-pleasing taste, jackfruit could be one of the most promising solutions for sustainably feeding the world. Compared to the intensive land and water resources necessary to produce meat, jackfruit is far more efficient as a global food source.
Danielle Nierenberg, president of Food Tank, which focuses on sustainable agriculture, told The Guardian this about jackfruit:
"It is easy to grow. It survives pests and diseases and high temperatures. It is drought-resistant. […] It achieves what farmers need in food production when facing a lot of challenges under climate change."
Researchers are also aiming to increase jackfruit consumption in India, where the food has fallen out of favor and often goes to waste. Making it a favorite staple food again could help feed millions of people who are facing food insecurity.
Authors:
Last update: 29/06/2020
Sources: